Our Staff
Meet the Spirituality Center Staff
---
Director
Sister Charlene M. Diorka, SSJ, M.A.
Sister Charlene has left the Basilian Spirituality Center to assume the position of Program Director for the Collaborative Leadership Development Program (CLPD) , a group committed to the development of leadership among young women religious, their associates and their ministry partners. CLPD, a national organization, offers Sister Charlene the opportunity to share her talents and administrative skills with a wider audience. We are grateful to Sister for her work in revitalizing the Spirituality Center over the past three years and we wish her God's blessing in her new ministry.
During this time of transition, please direct your requests and registrations to Sister Dorothy Ann Busowski, OSBM. Thank you.
Associate Director
Sister Johanna Gedaka, SSJ, Ph.D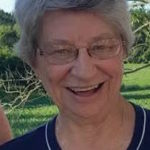 Sister Johanna holds a Ph.D. from the University of Pennsylvania and advanced degrees in music and the visual arts from Towson University and Parsons/Bank Street, New York. She brings her years of experience in the classroom, the studio, and as an administrator in all levels of education to her tasks as a member of the Center staff. Her spiritual core as a Sister of Saint Joseph energizes her to share with others her appreciation for diversity in celebration of our common humanity and the beauty of creation that God, in love, has entrusted to us.