Basilian Spirituality Center
Experience a sacred place of prayer, reflection, and hospitality in the Eastern Catholic tradition.
---
About the Spirituality Center
The Basilian Spirituality Center is more than physical space – it is a focus for spiritual renewal and refreshment to all seekers. The Center is a welcoming, sacred place of hospitality for individuals, groups, and organizations. There is opportunity for prayer, study, spiritual renewal and refreshment to foster transformation through spiritual and holistic growth.
To register for any of the programs or for further information, please call 215-780-1227 or email at: basilcenter@stbasils.com
Programs at the Basilian Spirituality Center are made possible in part thanks to financial assistance from the Ukrainian Community Foundation of Philadelphia and Ukrainian Selfreliance Federal Credit Union.
 Mission
The Basilian Spirituality Center is a ministry of the Sisters of the Order of Saint Basil the Great. Rooted in Eastern Christian Spirituality, the Center reflects Christ's praying, healing and life-giving presence to all God's people through programs it offers and events it hosts.
Upcoming Programs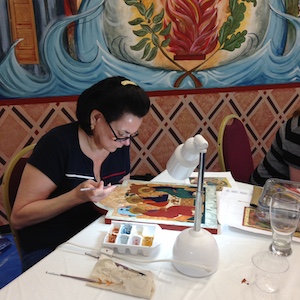 Icons are about prayer from start to finish – and beyond. During the workshop students will pray an icon similar to the one on the right into existence through a very disciplined process which is ancient and yet accessible. No prior experience is required and one need not have any drawing ability to write an icon. Peter Pearson has taught hundreds, perhaps thousands of folks over the past 25 years and is skilled in calling forth the best in his students. One needs only to be open, willing, and teachable. The students will work in acrylic paint and all supplies for the icon workshop will be provided and included in the workshop fee.
The beginners class of Manuscript Illumination will offer an appreciation of the work of monks and wandering medieval artists of the 10th to 14th century. No previous experience is necessary. This class will train the students to use gouache paint for the following forms: leaves, turning leaves, diaper pattern, decoration of leading letters, turning ribbons and the use of an embosser to decorate gold backgrounds. A final project, ready for framing, will be completed. The instructor will supply all of the materials needed.