Basilian Spirituality Center
Experience a sacred place of prayer, reflection, and hospitality in the Eastern Catholic tradition.
---
About
The mission of the Basilian Spirituality Center is to bring Christ's praying, healing, and life-giving presence to all God's people through its programs. Rooted in Eastern Christian Spirituality, the Center was formed in 2000 as the first of its kind in the United States and remains committed to helping the Church breathe with both lungs—the East and the West.
The Center is a ministry of the Sisters of the Order of Saint Basil the Great, an international order of Eastern Catholic women consecrated to God. Saint Basil of Caesarea and his sister, Saint Macrina, founded the order in the fourth century.
In 1911 the Sisters came to the United States from their monastery in Yavoriv, Galicia to serve the Ukrainian Catholic community, especially orphans. After more than a century of apostolic work, the Center continues their tradition of Basilian hospitality for all who desire to grow closer to God through spiritual renewal.
Facilities
Conference rooms, classroom space, and event space
Gift shop
Library and archives
Sacred space for prayer and liturgy
Serene, wooded grounds
Staff

Director
Sean McLaughlin is an alumnus of Boston College (Master of Theological Studies) and Fordham University (BA, Philosophy). Sean and his wife are parishioners of Our Lady Help of Christians in Abington.
Upcoming Programs
Faith Formation during the Great Fast (Lent)
Do you have questions about the Catholic Faith? Are you interested in learning more about the Church's origins and development?
Join us on Tuesday evenings during the Great Fast (Lent). We will cover topics including the Old and New Testaments, the history of Christianity, theology, and more.
Session 1, March 5:  Introduction
Session 2, March 12:  Understanding the Old Testament
Session 3, March 19:  Understanding the New Testament
Session 4, March 26:  The Ancient Church from Pentecost to Constantine
Session 5, April 2:  Medieval Catholicism and the Crusades
Session 6, April 9:  The Reformation and the Church's Response
Session 7, April 16:  Vatican II through Today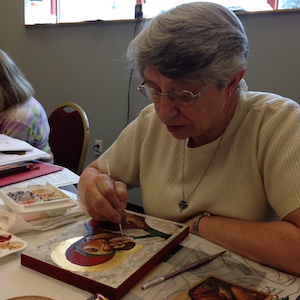 The Byzantine iconographic tradition is an ancient and essential element of the Christian experience. While many are drawn to icons, the thought of attempting such a technically challenging project can be intimidating. With the right teacher, however, anyone desiring to grow with God through this practice can do so. The iconographic process is much more than a painting class: it is an opportunity for God to work on, in, and through us.
This workshop is designed for students of all levels, from absolute beginners to advanced practitioners. Iconographer Raymond Vincent, whose career spans more than a decade, is committed to equipping each person with the right tools and patient instruction to successfully explore the art form.
If you are passionate about sacred art or are simply looking for another way to explore faith, register today. You will be challenged, you will learn a tremendous amount, and you will produce something of spiritual beauty.