Basilian Volunteers
"Be generous, and use whatever is left over from real needs to do good."—Saint Basil the Great
---
The Basilian Volunteer Mission Program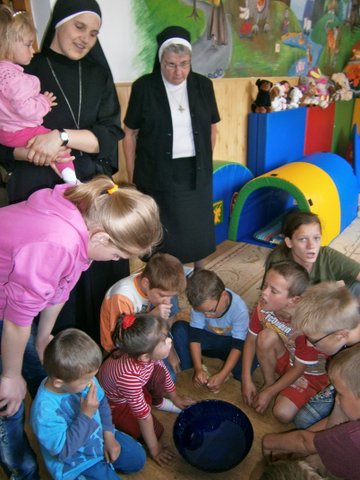 The Basilian Volunteer Mission Program is a living, growing mission. During our last Provincial Chapter the Sisters of Jesus, Lover of Humanity Province made a commitment to continued spiritual growth through " A Pilgrims' Journey to Transformation". We extend this invitation to others who would consider joining us on this journey. As the needs of the times change the roads change and the journey changes.
Over 100 years ago Bishop Ortynsky, OSBM extended an invitation to the Sisters of the Order of Saint Basil the Great to help the Ukrainian immigrants in America. Now the invitation is of the Bishops of Ukraine requesting our assistance to the poor in Ukraine. We have journeyed a full circle. We appreciate all your financial and physical support in the past and invite you to continue your collaboration in this endeavor.
The Basilian Volunteer Mission Program is an invitation extended to women and men to experience the Mission of The Sisters of the Order of Saint Basil the Great of being the Praying, Healing and Life-Giving Presence of Christ in a broken world and through community living. St. Basil teaches us that Community Life provides the possibility for us to be sent to minister to the people of God.
Basilian Volunteers make a commitment to a shared way of life that supports, encourages and challenges growth within a framework of a common desire to work for healing in our world and being a praying, healing and life-giving presence in the world. Community challenges one to form honest and open relationships. This means respectfully confronting tensions as well as addressing and celebrating differences. We require that volunteers be mature, responsible adults who represent the Sisters of the Order of Saint Basil the Great and whose actions reflect not only the volunteer but the Sisters as well.
Requirements of a Basilian Volunteer:
Over 21 years of age
Married or single
Responsible for airfare and financial obligations incurred on the mission
Open to participate in prayer and reflection
College educated or have related life experiences
Available for ministry in the month of June
Responsible for required reading:

Spirituality of St. Basil the Great
Sacred Scripture
"Transfiguration" by John Dear
A Meditation on Transforming Ourselves and Our World
The Sisters of the Order of Saint Basil the Great arrange for food and lodging at each location of ministry.
Interested in learning more? For more information, call:
Sister Joann Sosler, OSBM
267-721-4479
Sister Ann Laszok, OSBM
412-260-1607