Programs and Retreats
Join us at the Basilian Spirituality Center for an upcoming program or retreat.
---
Programs are the primary means of fulfilling the Basilian Spirituality Center's mission. They include faith formation, spiritual direction, retreats and liturgy, icon workshops, as well as others. Our programs are made possible thanks in part to financial assistance from the Ukrainian Community Foundation of Philadelphia and the Ukrainian Selfreliance Federal Union. To register for a program or for further information please call (215) 780-1227 or write to us at basilcenter@stbasils.com.
Retreats
The Center features spaces for reflection, reading, walking, and the opportunity for silence. We have several guest rooms available for those interested in private retreats lasting one or several days. We also host group retreats without overnight accommodations.
Invite the Center to Your Site
The Basilian Spirituality Center staff is available for programming at your site or location. We can offer presentations, retreats, and days of reflection to meet the spiritual and formational needs of any group.
Faith Formation during the Great Fast (Lent)
Do you have questions about the Catholic Faith? Are you interested in learning more about the Church's origins and development?
Join us on Tuesday evenings during the Great Fast (Lent). We will cover topics including the Old and New Testaments, the history of Christianity, theology, and more.
Session 1, March 5:  Introduction
Session 2, March 12:  Understanding the Old Testament
Session 3, March 19:  Understanding the New Testament
Session 4, March 26:  The Ancient Church from Pentecost to Constantine
Session 5, April 2:  Medieval Catholicism and the Crusades
Session 6, April 9:  The Reformation and the Church's Response
Session 7, April 16:  Vatican II through Today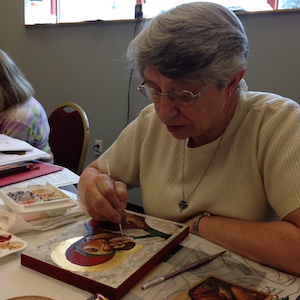 The Byzantine iconographic tradition is an ancient and essential element of the Christian experience. While many are drawn to icons, the thought of attempting such a technically challenging project can be intimidating. With the right teacher, however, anyone desiring to grow with God through this practice can do so. The iconographic process is much more than a painting class: it is an opportunity for God to work on, in, and through us.
This workshop is designed for students of all levels, from absolute beginners to advanced practitioners. Iconographer Raymond Vincent, whose career spans more than a decade, is committed to equipping each person with the right tools and patient instruction to successfully explore the art form.
If you are passionate about sacred art or are simply looking for another way to explore faith, register today. You will be challenged, you will learn a tremendous amount, and you will produce something of spiritual beauty.