News
Introducing and Welcoming a New Member of the Sisters of Saint Basil the Great, Jesus, Lover of Humanity Province
---
On September 21, 2018, Sr. Teodora Kopyn, OSBM was accepted into the Jesus Lover of Humanity Province at Vespers. It was an auspicious beginning as the date coincides with leave taking (according to the Gregorian calendar) and Nativity of the Mother of God (according to the Julian calendar).
At a simple ritual held in the Holy Trinity Chapel Sister Dorothy Ann officially accepted Sister Teodora into the Jesus, Lover of Humanity Province with the following words: Sister Teodora, you have walked with us for four years as a Sister from the Holy Trinity Province, assisting us in our needs. During that time you got to know us, and we got to know you. A mutually special bond developed. And during that time you discerned that you want to spend the rest of your life as a member of Jesus, Lover of Humanity Province. At the same time we got to know, love and respect you, and we are happy to welcome you in our midst. As Provincial and as a representative of the Sisters in Jesus, Lover of Humanity Province, I officially number you as one of us.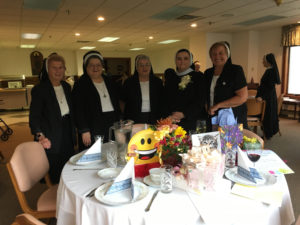 Sr. Teodora's mother and brother, Father Wasyl Kopyn and his wife, Angelina, joined the Sisters via Skype at Vespers and dinner. Father Wasyl gave the blessing. Sister Monica gave the toast indicating how she had prayed for Sister Teodora to make this decision and expressed her joy in Sister's acceptance. Also joining the Sisters and Sister Teodora on this occasion was Sr. Lydia Anna Sawka, General Vicar, who was visiting from Rome.
Sister Teodora expressed her gratitude during the festive dinner, thanking each and every Sister in the Holy Trinity Province for their love, support and formation and then addressing the Sisters in her new province, noting that "it was your good example, talents, experience, goods works, your smiles, your greetings and your encouragement that inspired me to take this step. You were God's instruments in leading me to respond to God's call to become a member of the Province of Jesus Lover of Humanity."
A joyful Mnohaya Lita rang out in the dining room as each Sister personally welcomed Sister Teodora into the Province.
To see more pictures visit our Facebook page