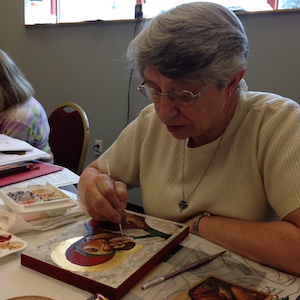 Programs
Icon Writing Workshop
---
Join us for an Icon Writing Workshop in the traditional medium of egg tempera.
The Byzantine iconographic tradition is an ancient and essential element of the Christian experience. While many are drawn to icons, the thought of attempting such a technically challenging project can be intimidating. With the right teacher, however, anyone desiring to grow with God through this practice can do so. The iconographic process is much more than a painting class: it is an opportunity for God to work on, in, and through us.
This workshop is designed for students of all levels, from absolute beginners to advanced practitioners. Iconographer Raymond Vincent, whose career spans more than a decade, is committed to equipping each person with the right tools and patient instruction to successfully explore the art form.
If you are passionate about sacred art or are simply looking for another way to explore faith, register today. You will be challenged, you will learn a tremendous amount, and you will produce something of spiritual beauty.
---
Presenter(s)
Raymond Vincent comes from a fine-arts background and has focused principally on Byzantine Iconography since 2008. He works in the traditional medium of egg tempera and paints in the Greek Style, drawing inspiration from the Late Byzantine School as well as incorporating technical and stylistic aspects from other epochs and contemporary iconographers. Thus, his work can be described as contemporary Byzantine. He is committed to producing icons of the highest technical and artistic quality.
Vincent also works to popularize the iconographic tradition by offering icon writing workshops, instruction, and speaking engagements. He has a bachelor's degree in sacred theology and is dedicated to serving the whole of the Holy Orthodox Faith—its theological, spiritual, and artistic traditions. Vincent is the resident iconographer at Holy Theophany Monastery in Olympia, WA.
---
Registration
Registration has closed.