News
Women's Day of Prayer
---
St. Vladimir Ukrainian Greek Catholic Church, in Scranton, PA Women as Caregivers: Spiritual, Pastoral and Practical Matters.
The Ukrainian Catholic Archeparchy of Philadelphia, in partnership with the Sisters of the Order of St. Basil the Great, the Sisters Servants of Mary Immaculate and the Missionary Sisters of the Mother of God, sponsored a Women's Day of Prayer at St. Vladimir Ukrainian Greek Catholic Church, in Scranton, PA on Sunday, April 24, 2016
The day began with the Divine Liturgy at 10:30 a.m. celebrated by His Grace, Most Reverend Stefan Soroka with Reverend Myron Myronyuk, pastor of St. Vladimir's Parish, con-celebrating. The parish choir sang the responses. Lunch followed and immediately afterwards the program, Women as Caregivers:  Spiritual, Pastoral and Practical Matters, was then offered to the forty-five women who attended.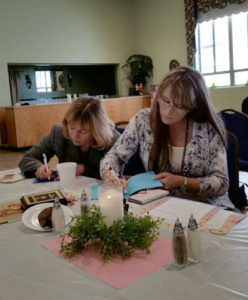 After a brief introduction by Sister Dorothy Ann Busowski, Ann Stefanic led the group in a prayer. The program then commenced with Sister Joann Sosler, a Sister of Saint Basil the Great, presenting her talk – "Touching the Holy". Sister shared from her personal experience of ministering to patients at Jeanne's Hospital in Philadelphia. Helen Fedoriw introduced the next speaker, Sophia Shchur, a retired nurse from Yonkers, NY. In her talk, "May I Walk You Home? Courage, Comfort and Coping for Caregivers" Sophia focused on the practical aspects of caring for family members with special physical, mental or emotional needs.
Both presentations were structured within the framework of Sacred Scripture and the values and ideals of Eastern Christian Spirituality.  Practical self-care suggestions were made by both presenters. Both speakers were graciously received by the women attending from Scranton, Shamokin, Frackville, Berwick and Simpson, PA.
The afternoon closed with Metropolitan Stefan, Reverend Myron Myronyuk and Reverend John Seniw anointing the hands of the participants with the blessing "may the work of your hands bring satisfaction to your spirit and comfort and healing to all whose lives you touch".